Statistics
Statistics can be taken anytime after Algebra 2 but it not a requirement to graduate.

Statistics acquaints students with the major concepts and tools for collecting, analyzing, and drawing conclusions from data. Students will frequently work on projects involving the hands-on gathering and analysis of real world data. Ideas and computations presented in this course have immediate links and connections to actual events. Computers and calculators will allow students to focus deeply on the concepts involved in statistics.

Powered by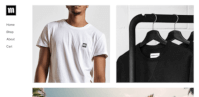 Create your own unique website with customizable templates.